Each month during the school year, the Pattonville Board of Education honors students, staff and volunteers who have gained recognition outside of the district or who've made a special contribution to the educational programs in Pattonville. Learn more about students and staff who were recognized in September.
Pattonville High School
Club volleyball
Sophomore Reagan Nelson earned Most Valuable Player honors while leading the Rockwood Thunder 15 Elite club team to a Gold Division first place finish at the USA Volleyball Girls Junior National Championship in Indianapolis this summer. Nelson, an outside hitter, also plays volleyball for Pattonville.
Club soccer
Senior Sadie Shull was part of the club team that won the U.S. Youth Soccer National Presidents Cup national championship in the girls under-17 division. Her team, JB Marine Miller 2005G, competed in the tournament in Greensboro, North Carolina, in July. The team played in a four-match bracket and won three of its four games.
National band honors
Pattonville High School senior Sydney Suvansri was named the 2022 High School Band Directors National Association (HSBDNA) National Band Student of the Year. In May, the clarinetist was selected as a member of the All-National Marching Band and the All-National Concert Band. Senior trumpeter Max McFarland was also selected as a member of both ensembles and was named a finalist for the National Band Student of the Year award. Across the country, only 12 clarinetists and 12 trumpeters were selected for each group. This is the second time since 2020 that a Pattonville High School band member has received the top national honor. Pattonville High School's band teachers are Laura Livesay, Denny McFarland and Anna White.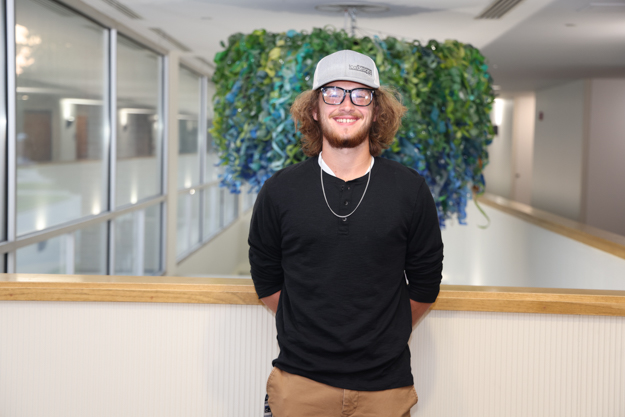 Max McFarland was a finalist for the HSBDNA National Band Student of the Year award.
All-American cheerleaders
The Pattonville High School varsity cheerleading team performed at the National Cheerleaders Association (NCA) Speed Camp hosted at Lindenwood University in June. All members of the varsity squad were nominated to try out for the All-American Team and five were selected to it. They were Ian Bailey, Jackie Clinton, Izzy Hatfield, Riesen Riley and Korrina Young. Bailey was also the recipient of the Top Gun award in tumbling and Riley won the Top Gun title in jumps for the second straight year. Four cheerleaders were selected by NCA staff or a member from another team to receive the Pin It Forward award. This award is given to individuals who show outstanding leadership, communication and maturity. They were Bailey, Riley, Tristyn Russell and Gabriella Serra. Other members of the varsity team that were nominated for the All-American Team were Bianca Appleton, Savannah Branson, Niyah Brown, Kemya Butler, Danya Green, Caraline Guetschow, Clare Ridings, Selena Riede, Chelsea Tate and Lauren Woods. The varsity team is coached by Kalli Hunt.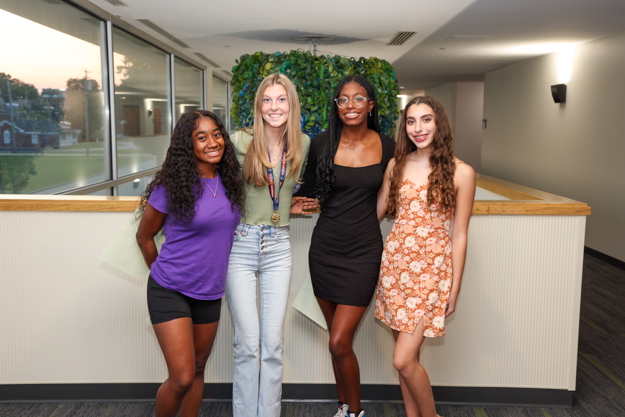 Members of the cheerleading team were nominated try out for the All-American Team. They include, from left, Riesen Riley, Izzy Hatfield, Tristyn Russel and Gabriella Serra.
Drill team honors
The Pattonville High School varsity and junior varsity drill team participated in the Universal Dance Association (UDA) camp hosted at the University of Health Sciences and Pharmacy in St. Louis. Varsity placed first with their home routine performance, earned a Superior trophy and received the Leadership Award, which is voted on by other teams. Individually, Kaylee Cofer and Sabrina Vargas were selected to the Senior All-American Team. Additionally, varsity team member Zaria Purvey was selected by UDA staff or a member from another team to receive two Pin It Forward awards. This award is given to individuals who show outstanding leadership, communication and maturity. This year's varsity drill team roster includes seniors Cofer and Vargas; juniors Nicole Cobbs, Lily Norman and Purvey; and sophomores Kaycee Carman, Elijah Davis, Reilly Edmonds, Hannah Fisbeck and Skyler McCaa. The varsity team is coached by Lindsey Schaefer and assistant coach Anise Glenn. Additionally, the varsity drill team was featured on "Becoming Varsity," a documentary series produced and directed by Breanna Holland. See the team's home routine by visiting Holland's YouTube page. The JV team also earned first place with their home routine performance along with a Superior trophy. Individually, team member Amaya Hinga received a Pin It Forward award. The JV team includes juniors Hinga and Aeriana Woodard; sophomores Sophia Knize, Kailey Mason and Taylor Volmert; and freshmen Aliya Curry, Mackenzie Miller, Jordyn Powers and Shreeya Verma. The team is coached by Kate Deegan and assistant coach Grace Bowman.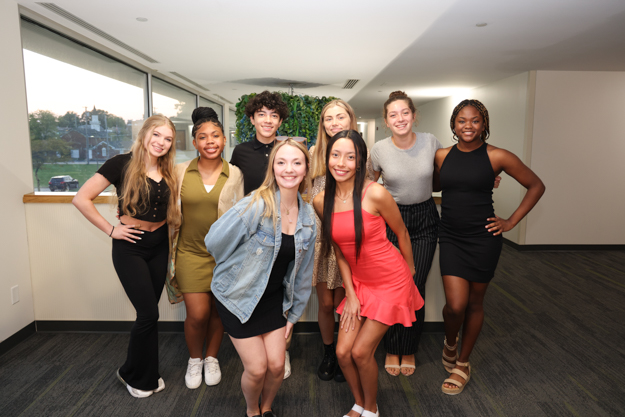 Pattonville's drill team earned honors at a Universal Dance Association (UDA) camp. They are, from left, front row, Kaylee Cofer and Sabrina Vargas and, back row, Kaycee Carman, Skyler McCaa, Elijah Davis, Lily Norman, Hannah Fisbeck and Zaria Purvey.
Driver education Teacher of Excellence
Tom Iffrig, driver education teacher, was selected as a national Teacher of Excellence award recipient by the National Road Safety Foundation and the American Driver and Traffic Safety Education Association (ADTSEA). Five Teachers of Excellence were honored on July 25 at the ADTSEA national conference in Vancouver, Washington, where they also presented innovative lesson plans to their peers. In May, Iffrig was named the 2022 Missouri Teacher Excellence Award nominee by the Missouri Driver Safety Education Association (MODSEA) during its annual state conference. Iffrig, a Pattonville alumnus, started teaching in Pattonville in 1997 as a middle school health and PE teacher. In 2007, he moved to Pattonville High School as a driver education teacher.
PLTW Outstanding Teacher
Science teacher Jamie Jobe was selected as one of 59 teachers across the U.S. to receive the Outstanding Project Lead The Way (PLTW) Teacher award. She is being recognized for her work in the PLTW biomedical science program. Each year, PLTW honors outstanding teachers and administrators who play an immeasurable role to prepare students to thrive in college, careers and beyond. The award recognizes educators who demonstrate a strong record of delivering an inspiring and empowering student experience while expanding access to PLTW programs and transforming teaching. Jobe has been a teacher at Pattonville High School for six years and teaches Principles of Biomedical Science, Biomedical Interventions and Medical Interventions. Students enrolled in each of those classes can earn college credit.
Transportation
Missouri Bus Safety Competition
Bus drivers from Pattonville competed in the 2022 Missouri Association for Pupil Transportation's Annual School Bus Safety Competition this summer. The competition featured three tests and 10 driving challenges. Contestants completed a written examination with a surprise question testing their knowledge of laws, rules and regulations required to operate a school bus, a pre-trip inspection test forcing a driver to find six defects on a bus in six minutes and 10 driving challenges including railroad crossing test, parallel parking and elementary student loading. Pattonville's team finished in second place at the event, earning its highest-ever finish as a team. Greg Zemblidge won the overall individual title for first place, marking the first time a Pattonville School District driver has won the event and the second consecutive championship for Zemblidge. He will represent Missouri at the 2023 School Bus Driver International Safety Competition. Jim Dickerson finished in second and Regina Dunmire received fourth place.
Districtwide
MoASBO president
Mary Jo Gruber, Pattonville School District's chief financial officer was selected as the Missouri Association of School Business Officials board president for the 2022-2023 school year. MoASBO is a professional association with nearly 1,000 members. Its mission is to support, connect, develop and advocate for school business officials in order to help their districts improve student success. Gruber has been a MoASBO member since 1999.