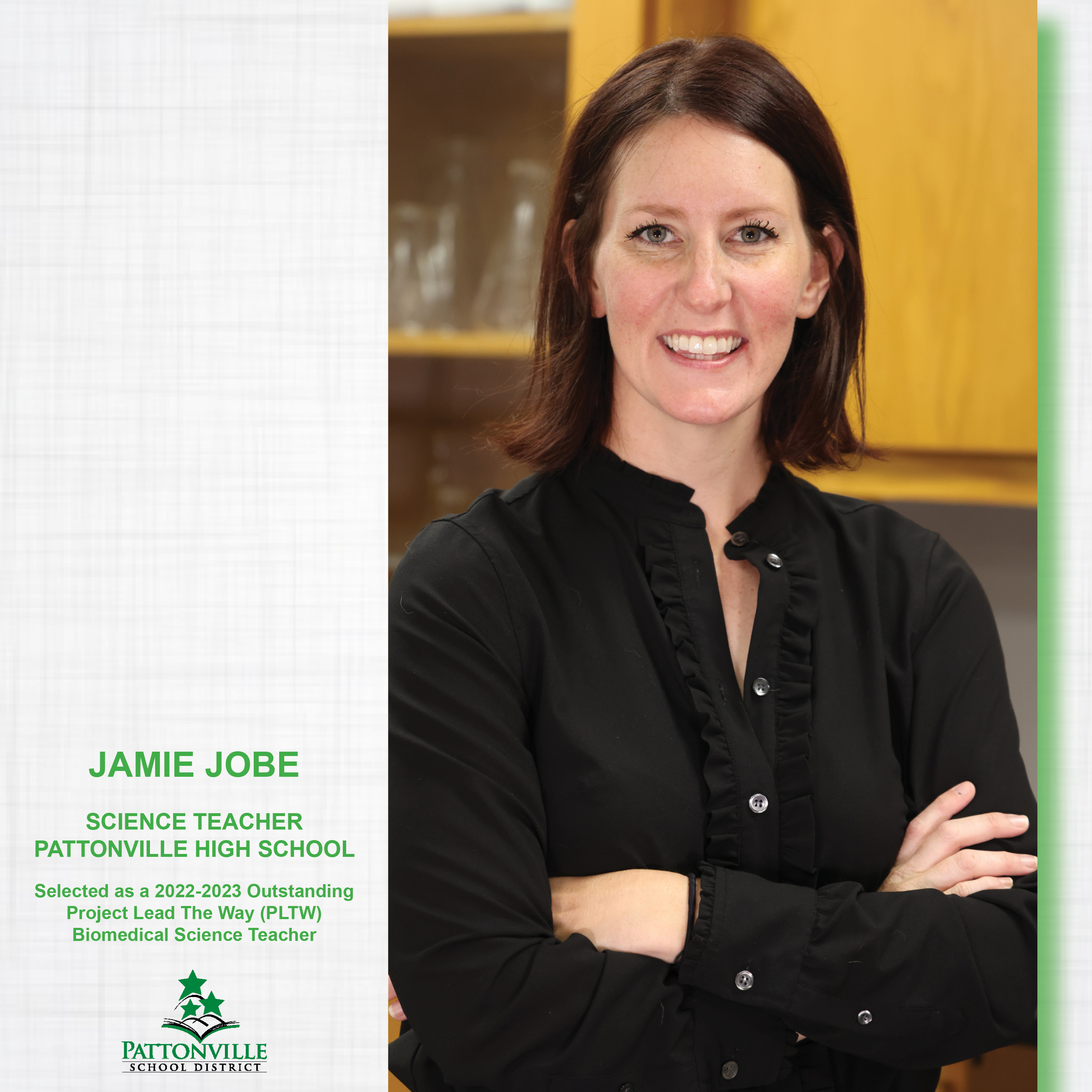 Pattonville High School science teacher Jamie Jobe is one of 59 teachers selected across the U.S. to have earned the Outstanding Project Lead The Way (PLTW) Teacher award. PLTW is honoring Jobe for her work in the PLTW biomedical science program. 
Each year, PLTW honors outstanding teachers and administrators across the network who play an immeasurable role to prepare students to thrive in college, careers and beyond. The award recognizes educators who demonstrate a strong record of delivering an inspiring and empowering student experience while expanding access to PLTW programs and transforming teaching. 
Jobe has been a teacher at Pattonville High School for six years and teaches Principles of Biomedical Science, Biomedical Interventions and Medical Interventions. Students enrolled in each of those classes can earn college credit. 
"PLTW educators do incredible work facilitating learning experiences that help inspire and prepare students to reach their full potential. This award acknowledges and recognizes their accomplishments in continuing that mission," stated Dr. David Dimmett, PLTW Interim President and CEO. "We congratulate them and are proud of the work these educational leaders do to equip students with the knowledge and skills necessary for success beyond the classroom, no matter what career path they choose."
Pattonville High School offers PLTW courses in computer science, engineering and biomedical sciences. It was one of just 191 high schools across the U.S. to be recognized as a 2020-2021 Distinguished School for providing broad access to transformative learning experiences for students through PLTW. 
About PLTW
Project Lead The Way (PLTW) is a mission-driven organization that is transforming the learning experience for millions of PreK-12 students and thousands of teachers across the U.S. PLTW empowers students to develop in-demand, transportable knowledge and skills through pathways in computer science, engineering, and biomedical science. PLTW's teacher training and resources support teachers as they engage their students in real-world learning. Approximately 12,200 elementary, middle, and high schools in all 50 states and the District of Columbia offer PLTW programs. For more information on Project Lead The Way, visit pltw.org.